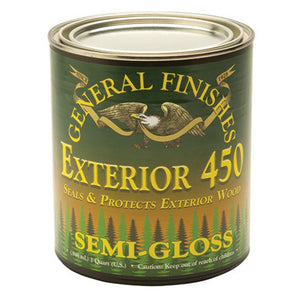 Exterior 450 Polyurethane
Regular price
Sale price
$49.00
---
Exterior 450 Topcoat a clear-drying finish suitable for vertical exterior surfaces, such as fences, patio furniture, garage doors, entrance doors and interior windows. It is not recommended as a deck finish. Exterior 450 is fortified with UV absorbers to stabilize the finish and built-in mildewcide to retard mold and mildew growth. It performs well as a clear coat or as an optional topcoat over General Finishes Milk Paint. 
Instructions
General Finishes Exterior 450 Topcoat Application Steps
Stir topcoat to reincorporate solids that have settled to the bottom of the can before and throughout the application process.
If desired, thin with up to 15% distilled water or

 General Finishes Extender. 

Start by adding 5% in increments until you reach the desired consistency. GF Extender will improve flow and leveling and increase open time, which is helpful in dry climates. 
Apply 2-3 coats of Exterior 450. More coats will not improve durability.

Hand application:

 

Apply a liberal amount of product using a synthetic bristle brush, foam brush, pad applicator or roller. Avoid pressure and excessive back-brushing. Brush along the wood grain using smooth, even strokes with light lap marks. Let lap marks dry; they WILL tighten down.
Spray application:

 

Before spraying, strain topcoat through a fine-mesh filter. Spray wet films at 3-5-mil thickness. HVLP: 1.1mm-1.3mm spray tip, medium air cap. Verify tip sizes with your equipment supplier. Keep your gun at a 90° angle, 6-8" from the surface. On large, flat areas, use wet, even patterns 6-8" wide. For narrow surfaces, reduce the fan pattern to 2-3" wide to reduce overspray. Overlap each pass 25% to conceal lines. Wear a full filter respirator (NIOSH/MSHA approved) and work in a ventilated space.

 

Dry 2+ hours

 

between coats in ideal conditions: 70°F/20°C; 50-70% humidity. Be sure to allow adequate dry time. You can tell if a water-based finish is dry if it forms a powder when lightly sanded with a fine-grade (220-320) foam sanding pad. If in doubt, wait longer. Rushing the dry time can cause "blush," which is clouding in the finish due to moisture trapped between the layers.

 

Increase dry time if:

Humidity is over 80%
3+ coats are applied
Thick coats are applied

To accelerate dry time in humid conditions, add General Finishes Accelerater and work in a space with good ventilation and air movement. If you decide to re-coat before the recommended time, test dryness.

Finish sand between coats with a fine-grade (220-320) foam sanding pad to improve smoothness and adhesion.
Remove dust with a vacuum, compressed air, an oil-free tack cloth or a water-dampened rag.
Ready for exterior use: Allow 5-6 days before putting your project outdoors.
Cure Time
Water-based finishes cure and harden for full use after 21 days in ideal conditions. Avoid placing heavy objects on surfaces that have not completely cured. Treat gently, and do not clean with commercial products during the curing period.
NOTE: Exterior 450 is designed to let the water permeate the finish; as it dries, the water releases back out to allow the finish to tighten down again. Temporary cloudiness may occur as the finish dries.

WARNING: We do not recommend Exterior 450 stains or topcoats for exotic woods, ipe, teak or other dense, oily woods. 
SDS
 Flat
https://generalfinishes.com/sites/default/files/documents/files/2018-06/SDS-Exterior-450-Topcoat-Flat-General-Finishes-US-HCS-2012-v4.7-2018-05-15.pdf
Satin
https://generalfinishes.com/sites/default/files/documents/files/2018-06/SDS-Exterior-450-Topcoat-Satin-General-Finishes-US-HCS-2012-v4.7-2018-05-15.pdf
Semi-Gloss
https://generalfinishes.com/sites/default/files/documents/files/2018-06/SDS-Exterior-450-Topcoat-Semi-Gloss-General-Finishes-US-HCS-2012-v4.7-2018-05-15.pdf
Gloss
https://generalfinishes.com/sites/default/files/documents/files/2018-06/SDS-Exterior-450-Topcoat-Gloss-General-Finishes-US-HCS-2012-v4.7-2018-05-15.pdf
---